The Following menu items will be available  for  September 13
Please order in advance to guarantee availability
***Please notify your server if anyone in your party has food allergies prior to placing your order***
Maple Pecan Pie   $17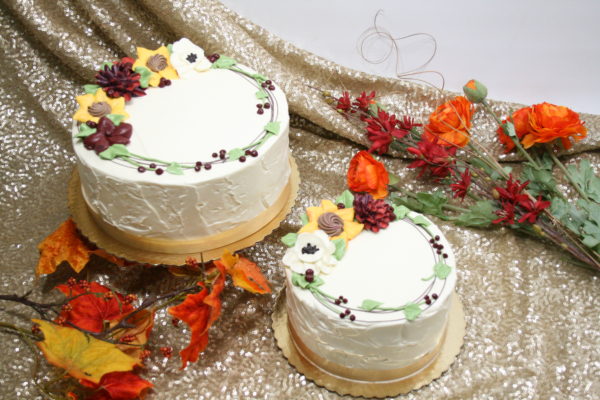 Homemade flaky pie crust with lots of pecans &  gooey maple custard brushed with honey glaze & garnished with maple leaf cookies
Hand decorated Cookies  $2.75 each or $30/dz   
Shortbread cookies frosted with royal icing available in Pumpkins, footballs & owls… to name a few… designs may change weekly … Limited supply.
Maple Frosted Pumpkin Pound Cake     $7.50                                                                                 
A seasonal favorite! Fluffy Pumpkin cake  topped with sweet maple frosting frosting
Rustic Apple Tart   9″ $18.50        
Perfect for a seasonal gathering! Homemade flaky pie crust with fresh locally grown apples, tossed lightly with sugar & spices & topped with buttery oatmeal brown sugar streusel
White Chocolate Pumpkin Cheesecake  
 individual $4.25, 6" serves 6-8 $23     8" serves 8-12 $40   
Creamy pumpkin cheesecake with  a ginger molasses crust, finished  with white chocolate cream  topping, fresh whipped cream & white chocolate shavings.
Naked Apple "Pie" Cake     8″ $26
Buttery vanilla cake layered with caramel, fresh apples & fresh whipped cream… it tastes just like fresh apple  pie with whipped cream!
Strawberry Roulade  $ 3.25 Slices      $11 Half        $21 Full     Vanilla sponge cake filled with strawberry mousse and accenting layer of strawberry preserve rolled up to form a log. Finished with fresh whipped cream & strawberries.
The following cake flavors are also available in our store:
Classic Chocolate Mousse cake  6″ $32;  8″ $44, limited number of 10″ $60
Confetti cake 6″ $30;  8″ $40, limited number of  10″ $55
Cookies & Cream 6″ $32;  8″ $44
Carrot cake 6″ $30;  8″ $40
Caramel Apple cake 6″ $32;  8″ $44
Vanilla Raspberry  6″ $30;  8″ $40
Vanilla Chocolate  6″ $30;  8″ $40